Just a little over a year ago, brick-and-mortar stores dominated retail in the United States. According to Digital Commerce 360, in 2019, more than 80% of shopping was done in-store, with eCommerce accounting for only 16% of purchases.
Today, thanks to advances in technology and a sea change in shopping behavior brought on by COVID-19, e-tailers have enjoyed a massive shift in online purchases. Now, everything you could ever want is a few taps away from being at your front door. Retailers and businesses alike have found great success in embracing the pandemic-accelerated shift towards an online marketplace, growing eCommerce sales to account for over 20% of total sales. With remote work and schooling having forged a new normal and with more people staying home, online businesses are thriving, with no reversal of this trend in store.
If you have a business looking to tap into the fast-growing eCommerce market in the United States, now is the time. To help get you started, we'll introduce the factors you need to consider:
Sales Channels
Shipping & Fulfillment
Inventory Management
Integration
Sales Channels
So you have your product developed and you're ready to start selling to the world, but how? There are a ton of retailers out there like Wayfair, Overstock, Amazon, etc. Which are the best for your products? The answers vary according to your business goals, and it may be advantageous to diversify your exposure by working with multiple retailers. Here are some of our favorite retailers:
Shipping & Fulfillment
Selling in the U.S. comes with unique challenges. Two of the largest obstacles for international vendors are the commitment of a lease on warehouse space and the uncertainty of how your product will perform in the U.S. market. With most warehouse spaces requiring long-term leases, along with the need for staff to manage and handle inventory operations, this can become very costly and risky. A lot of these risks can be mitigated by partnering with 3PL (third-party logistics) services. 3PL services (including Cenports | AndMakers) offer inventory space along with the handling of all shipping, fulfillment, and returns so you can focus more on your business. Working with services like Cenports | AndMakers will reduce your operational costs while also reducing the financial risk of doing it yourself.
Inventory Management
This is one of the most overlooked aspects of business operations. A common and costly mistake businesses make is overselling products because of inaccuracies in inventory data. Many businesses utilize software services like Quickbooks to manage inventory, but this can take up a lot of time. Again, 3PL services may be beneficial to reduce the amount of time needed to update your inventory. For instance, here at Cenports | AndMakers, we offer all our partners our in-house dashboard that allows you to manage your inventory automatically. This will eliminate the need for daily counts on inventory, reduce errors in overselling, and help keep you on top of your sales flow.
Integration
If you're partnered with multiple retailers, it can quickly become difficult to keep track of all your channels. This is where integration comes in. Each retailer has its own format in which you input and manage your SKUs, and this burns tons of hours of input a week. With services like Cenports, you'll be able to manage all your products from one centralized dashboard. Our dashboard allows you to connect to almost any major retailer, streamlining the way you manage your business. Check out what our software can do here.
Start Selling in the U.S. Today
No matter what path you choose, Cenports | AndMakers is here to help! We offer comprehensive services that aim to meet your business needs. From accessing the best retailers to maximizing reach to U.S. audiences, to offering our centralized dashboard to streamline operations, we work closely with our clients to make sure that their businesses will succeed. If you're interested in learning more, feel free to fill out this contact form so we can learn the ins and outs of your unique business and determine whether we can help you grow your business in the U.S.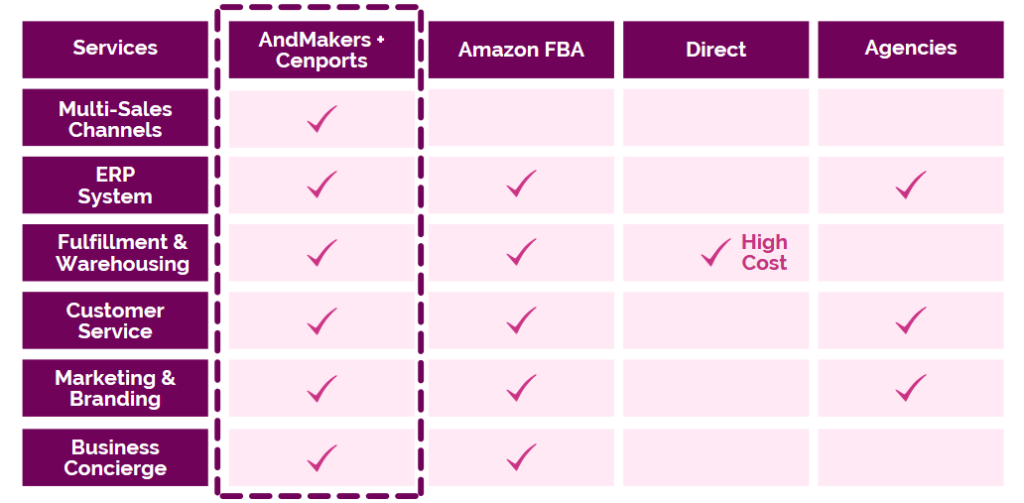 Want to learn more about Sales Channels, Fulfillment, Inventory Management, and Integration? Keep an eye on the AndMakers blog for a series of posts further dissecting each factor, including challenges, partnership options, and more. We'll lead off with a comprehensive analysis of sales channels in the next post.