As per a Digital Commerce 36 report, online sales from all B2B ecommerce sites, marketplaces, and other portals increased 17.8% to reach USD 1.63 trillion globally.
We all remember when B2B businesses would call each other up to inquire and get a quotation.
However, things have swiftly changed, and the process has become streamlined.
When everything was going smooth and was evolving at its own pace, the pandemic landed on our shores and supercharged the evolution.
As per a Digital Commerce 360 report, 57% of purchasing managers spent more on ecommerce sites than they previously did. It even involved sizeable purchases from 22% of them.
But before we delve any further, it is requisite to know that when it comes to marketing and sales, most of us tend to focus on B2C or B2C.
But B2B is an entirely different ball game in almost all aspects and requires your marketing team to deploy a different approach to succeed.
This article discusses 10 B2B ecommerce strategies that seldom fail to generate the results you seek.
Strategies that B2B companies need to ace
1. Optimize product landing pages
As per a McKinsey report, 65% of B2B companies are expected to go completely digital in 2022.
It would be the first time B2B organizations would completely turn to online sales over in-person ones. The report also states that around 18% of all business-to-business revenue is coming from ecommerce.
It topples the numbers generated by email, video conferencing, and even telephonic mediums
But for this to congregate and materialize the way you want to, you will have to work on optimizing the landing page.
A landing page refers to the page where a prospect who has clicked on your ad would land. You will have to understand what your competition is up to and your target customer. Understanding their needs would enable you to shape your landing pages better.
2. Include more product information and images on the site
If given an option, would you prefer buying from a shabby, incomplete website when you have an SEO-optimized, user-oriented website as an alternative?
NO, you won't.
We are moving toward a graphics-heavy world where images and video content are becoming more critical.
The average B2B buyers read up to 13 pieces of content before zeroing on the right vendor. It is imperative for you to focus on creating a lot of content that is able to help potential clients garner product information.
Complement your information content with meaningful images to ensure they do not feel monotonous and bored, and yet get more accurate understanding of the product.
These subtle improvements go a long way in helping you find more customers with ease.
3. Use social media marketing
There is no alternative to creating good and meaningful content in the present times.
It doesn't matter what you are trying to sell and who your target customer is, but you must use modes like social media marketing to improve your reach and cover newer markets.
While social media marketing has been primarily a B2C game for a long time, the ball is now shifting to B2B companies' court gradually
As per Gartner's research, 46% of B2B buyers actively use social media to understand available solutions. Additionally, 40% of them compare different options they have and 35% of them use it to garner the missing pieces of information before placing an order.
As a result, it has propelled over 54% of B2B brands to have online stores to cater to such an audience.
However, if you have limited means, it is vital for you to not focus on all the social media platforms from the word go. Instead, you can look into analytics to understand where your target customers come from and pick those platforms for your marketing endeavors.

It will give you a higher chance of gaining the requisite tracking and improving your sales figure.
4. Offer flexible order and payment options
Rigidity is often detrimental to businesses. So, if you are looking to improve the traction you are getting, you will have to review your forecasts and analyze customer behavior to understand their requirements.
When it comes to B2B ecommerce purchases, most buyers prefer flexibility with regard to lot sizes and pricing.
So, you can consider including monthly packages to eliminate the need to place multiple orders, or you can ensure your portal supports a plethora of payments options for clutter-free checkouts.
All of it contributes toward improving the user experience and making it easier for them to buy more from you.
5. Add customer reviews and ratings
Buyers, both B2B and B2C ones, often prefer reviews from their peers before purchasing.
When it comes to ecommerce, the need for relevant testimonials is further elevated. This is because customers have limited interaction with the products they are looking to buy.
It is, therefore, imperative for you to request your existing customers to drop their reviews so that you can list them on your ecommerce platforms.
In addition, it would lend authority to what you say about your products on your landing pages and propel potential customers to convert.
6. Improve product discovery and information
As per Wunderman Thompson, B2B buyers find it difficult to find products on ecommerce sites.
While the reason can be any, it is imperative for you to figure out a solution for this.
One of the potential solutions to this could be establishing a B2B back-office technology. It helps you automate a series of processes and use real-time data to understand customer behavior and preferences.
Another solution could be the introduction of a PIM (product information management) into your existing software bucket. It would enable you to improve your product information and make it more marketable for your ecommerce buyers.
7. Personalize and personalize!
Personalization and ecommerce go hand in hand. Half of B2B buyers have cited personalization as the key point to focus on when they look for new ecommerce sellers for their needs. 48% of them spend more if the experience is personalized for them.
It is why a multiple B2B organizations are today opting for headless commerce, which would enable them to build and ensure a more personalized experience for their buyers conveniently.
8. Create FOMO with flash sales
Flash sales have been a regular at B2C ecommerce sites. But with B2B buyers shifting online, a lot of these FOMO (fear of missing out) tactics can work for the business-to-business space too.
If you can create a sense of urgency, it will propel your buyers to believe that it is the best chance for them to grab your products, enabling you to rake in more numbers with ease.
With Forrester research stating that 73% of millennials being involved in the B2B industry, there is no reason for us to believe that FOMO and flash sales wouldn't work effortlessly in this space.
9. Utilize tracking and analytics tools
To understand that your marketing campaigns are on par or above your competition, there is a need for you to leverage the power of tracking and analytics tools.
These tools give you valuable insights pertaining to your ecommerce site visitors. This enables business brands to find innovative ways to optimize the experience and reduce the bounce rate.
10. Improve the site's UI/UX
While all of it may propel you to feel that B2Bs have a bright future ahead, 52% of B2B buyers are unhappy with the overall ecommerce buying experience.
Unsurprisingly, 9 out of 10 B2B buyers would switch to another digital supplier if the existing seller could not meet their expectations.
Ecommerce buyers are quick to switch if they feel that the overall site user experience is not up to the mark. It is important to understand the challenges faced by your existing users and work towards improving the site's UI/UX to allow the potential clients to stay longer and convert.
It would require you to use expert tools that allow you to delve deeper into customer behavior. These new-age tools are able to create heat maps, find better ways to engage potential customers, and build conversion funnels that would significantly cut down the bounce rates.
11. Check your website loading speed
Slow website speed is one of the biggest factors contributing to users switching to alternate ones. If you want your visitors to stay, shift from your legacy systems to more robust ones capable of delivering a B2C-like experience.
While upgrading old systems is a significant challenge for 36.6% of distributors in 2022, we fear they do not have any options left. But there has been a tendency for B2B ecommerce brands to upgrade only when needed, which can be more difficult for them in the long run.
Being ahead of your times is the mark of a successful B2B marketing campaign. Understand your customer's pain points and ensure that you tackle them before your clients shift to your competitor brands.
Wrap up
The year 2022 is expected to be a significant milestone for B2B brands to finally get accustomed to ecommerce behavior and use it to their advantage.
These 11 strategies should be a good headstart for those looking to improve their online presence and make themselves more findable.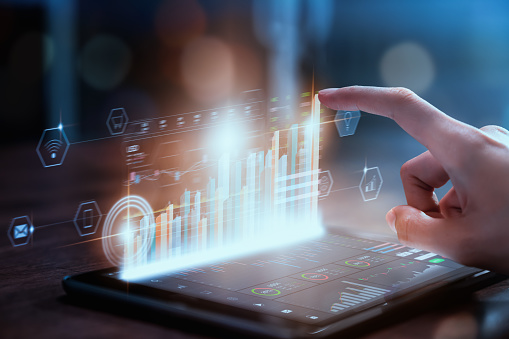 For more fulfillment related queries for your ecommerce business, reach out to us at & fulfillment.